Publication:
Spokesman Review
Date: June 9th, 2017
Title: On Tap: Bombastic offers big taste in small batches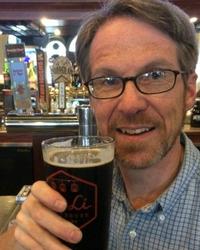 Rick Bonino
Beer Reporter
Rick Bonino has written about beer for The Spokesman-Review since 1994. After 34 years as a full-time writer and editor, during which he spent far too much time worrying about things other than beer, he took an early retirement in December 2011 to set his priorities straight. In addition to this blog, his print On Tap column runs the second and fourth Fridays of each month in the newspaper's Today section.
Local beer drinkers soon will learn what being Bombastic is all about.
To the owners of Bombastic Brewing, North Idaho's newest brewery, it's about adventurous recipes (and curious names) – like the Attempted Murder vanilla cinnamon stout that debuts next Thursday at Enoteca in Post Falls.
It's about alternative business models. Bombastic plans to produce small-batch specialties in-house, but contract with other area breweries to make regular, larger-scale offerings.
And it's about a more ambitious approach, like the sort of celebratory bottle release events you might see at breweries in bigger cities such as Seattle and Portland.
"We want to grow the beer culture in the Spokane area," said Phil Hottenstein, Bombastic's marketing spokesman. "You're going to see craft really taking hold here, brewers getting more experimental, pushing the envelope more. We want to be at the forefront of that."
The idea grew out of beer-geek bonding between Hottenstein, a railroad engineer, and Russell Mann, former owner of the Enoteca wine and beer shop. Along the way, they met up with Matt Skillicorn, a mechanical engineer who's been homebrewing for seven years.
Skillicorn makes the beer with the help of Hottenstein, who spreads the word, with Mann working behind the scenes on the business end. Their combined credentials are solid; between them, they've sampled beers from every state in the U.S. and drank their way through Europe.
"Our slogan is 'We know beer,' and we honestly do," Hottenstein said. "It's not a light-hearted statement."
Bombastic started taking off after Mann sold Enoteca in July 2015. It lined up space in the Panhandle Area Business Council incubator at the Hayden airport, which houses the half-barrel (15-gallon) pilot brewing system.
All the beers are being brewed there now, but negotiations are underway to rent excess capacity at established area breweries – the sort of so-called "gypsy" brewing done by such creative cult favorites as Mikkeller and Evil Twin.
That will provide for broader distribution of standard beers, Hottenstein said, while the smaller system "allows us to be mad scientists."
Bombastic's beers take their names from the terminology for groups of various animals (except for eventual barrel-aged offerings, which will be named after assorted deities). Stark but intricate black-and-white label designs come from Hottenstein's former tattoo artist.
Attempted Murder is a variation on Bombastic's standard stout recipe, Murder (after a group of crows), which includes vanilla, cinnamon, cocoa nibs, Ancho chilies and cayenne. Since it's missing those latter three ingredients, Hottenstein said, it's "almost Murder"; its label pictures two evil-looking crows, but not the knifed crow corpse they're standing over on the regular Murder label.
With intense cinnamon balancing the vanilla sweetness, it's surprisingly drinkable for its hefty 10 percent alcohol by volume. That's by design, Skillicorn said: "You don't drink beer for the alcohol, you drink it for the flavor that goes with the alcohol."
Also on the darker, stronger side is a 7.5 percent imperial porter dubbed Sleuth (bears), brewed with dark wheat malt and honey for a roasty aroma and smooth, dry-finishing flavor.
The regular IPA, Wisdom (wombats), starts out with the soft juiciness of the New England style followed by a decidedly West Coast hop kick. Then there's Puddle (platypuses), an easy-drinking, Citra-hopped pale ale that also will pour at Enoteca along with Attempted Murder.
"We tend to do the biggest beers we can, but we realize everybody isn't about that," Hottenstein said. "A beer like Puddle is a good entry point. It allows people to start going up our ladder of beers."
The initial batches will be split between a small keg or two for events like Enoteca's and a limited run of 22-ounce bottles, which will be available only at the brewery. Bottle releases will be announced through Bombastic's email list and website.
Hottenstein hopes those will capture some of the excitement of similar release events at more in-demand breweries, which can draw people from around the country. "I've met many people standing in line to get beer that I'm still in contact with today," he said.
It all might sound like a tall order, but Bombastic is up for the challenge. "There's already great in the market," Skillicorn said. "The question is, how do you be great and different?"
Be the first to know about new beer releases

Sign up here to get Bombastic Brewing beer near you